Ever wondered what your portrait would look like if painted by abstract artist Pablo Picasso?  Visitors to KLC International Institute's (KLCII) booth at this year's SkillsFuture Roadshow were treated to the opportunity to discover just that—through creating self-portraits in Picasso's Cubist style, using paper cut-outs and glue to make a picture composite of themselves.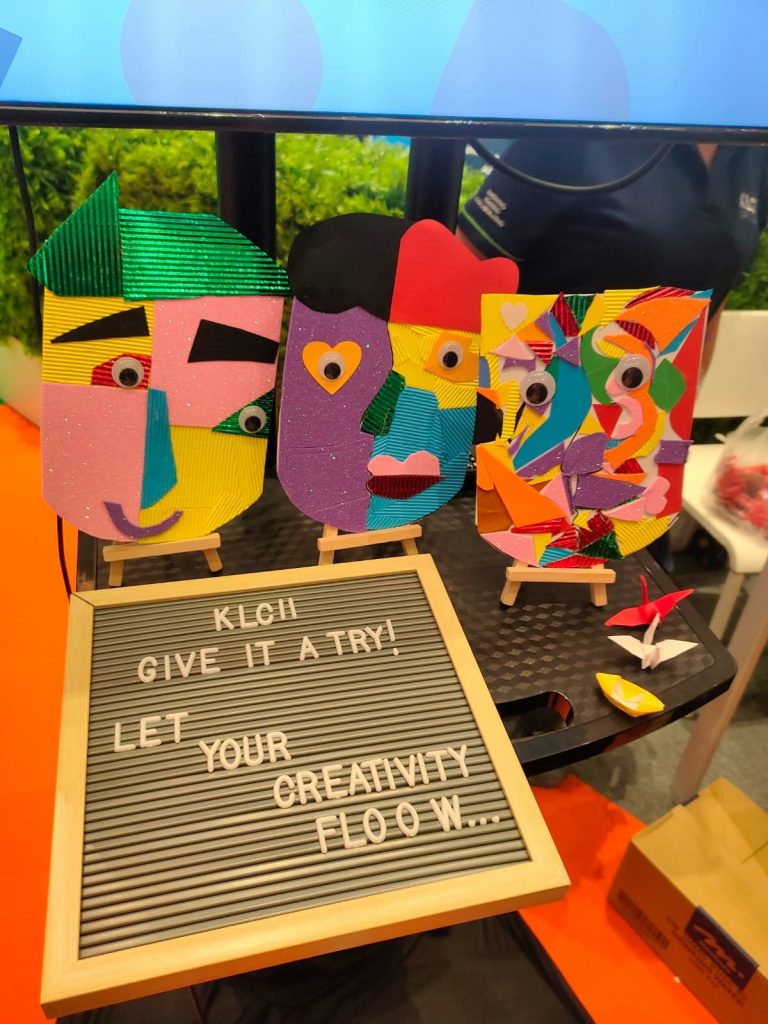 Display of  Picasso's Cubist style portraits
This activity was designed to let visitors experience the fun of learning as a pre-schooler would in today's early childhood centres. Through this, visitors were given an inside look into the world of today's early childhood educator—leveraging innovative ideas based on sound pedagogies to engage children in multi-sensory, open-ended play that supports their cognitive and social-emotional development.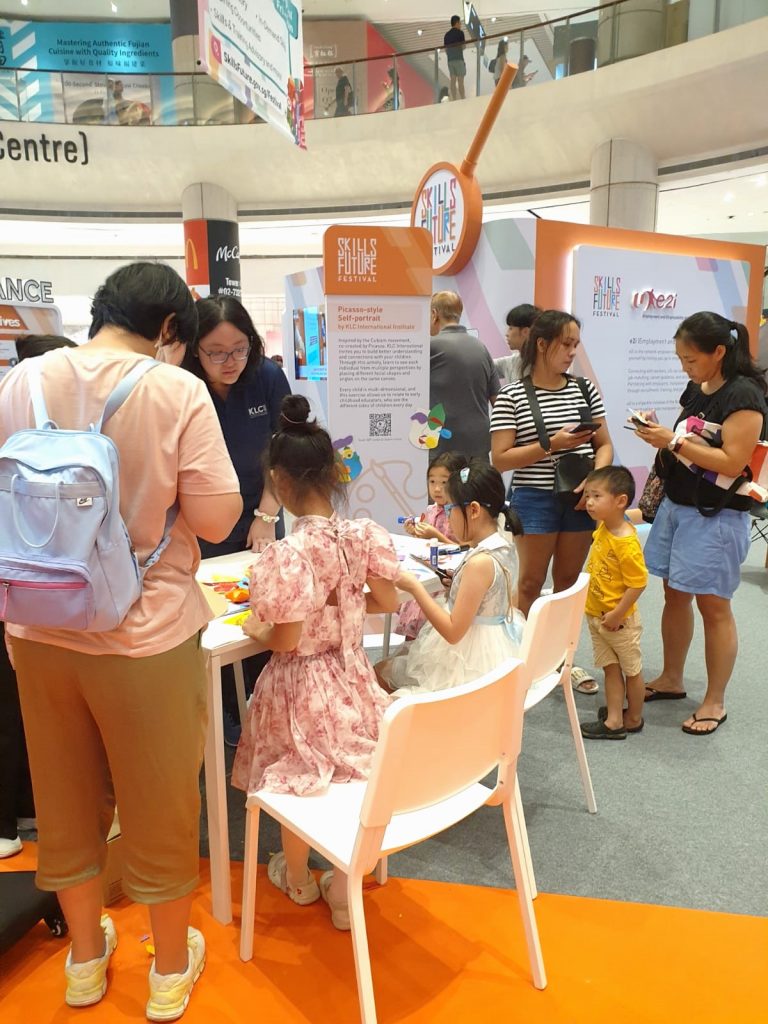 Visitors to the booth engaging in the creation of their own portraits
Held at Suntec City Convention Centre Atrium from 7 to 9 July 2023, the SkillsFuture Festival Roadshow was designed to help visitors discover in-demand jobs and skills in emerging and high-growth sectors, such as early childhood (EC) education, and provide opportunities to speak with training providers such as KLCII to identify suitable courses for themselves.
Visitors enjoyed free one-to-one consultation with KLCII Consultants on career and growth pathways in the EC sector, as well as the training programmes available to start them on the journey of becoming an EC educator.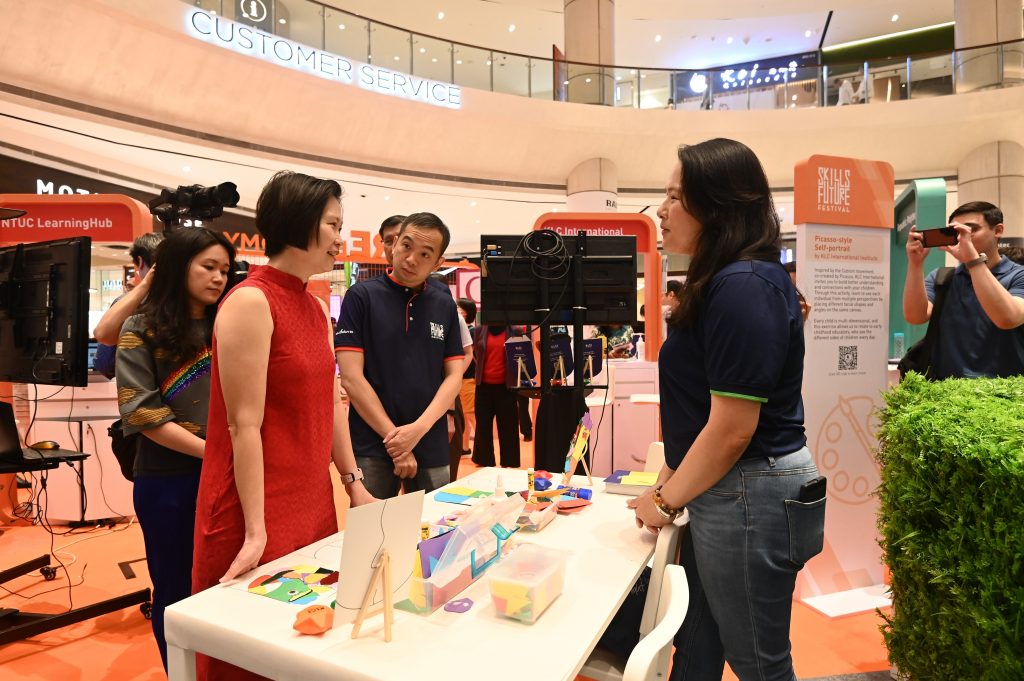 Ms Gan Siow Huang, Minister of State, Ministry of Education & Ministry of Manpower, visiting our booth

KLCII offers an entire range of courses for EC educators in Mandarin Chinese and in English, from the certificate level, through diploma to degree levels to meet the training needs for those aspiring to enter the sector as well as those seeking to advance in their EC careers to take on leadership responsibilities.
Beyond certification courses, KLCII also offers continuing professional development (CPD) courses for EC educators, such as "Exploring Creativity in Natural Science", "Creating a Self-Directed Learning Environment", "Exploring Meaningful Playtime with Infants and Toddlers", "Harnessing Play for Intentional Teaching" and "GO E.A.S.T. (Experience Arts & Science with Toddlers)".  These help EC educators keep up to date with the latest in EC pedagogy and best practices, to provide the most conductive learning environment for pre-schoolers.
To cater to the needs of students who are also concurrently working, KLCII's lessons are conducted 100% online, making it extremely convenient for students to attend classes from any location, saving on commuting time. To make up for the loss of in-person social interaction, KLCII's has revamped its campuses at Ang Mo Kio, Jurong East and Yio Chu Kang to provide conducive spaces for KLCII students to gather, collaborate and socialize whenever they wish to do so. These spaces are also available for use for KLCII alumni activities. We believe that our relationship with our students does not end at graduation. We are here to support their professional growth, development needs and personal well-being throughout their career in the early childhood education sector.
If you had missed the SkillsFuture Roadshow, but would like a free one-to-one consultation with our consultants on the possible career and growth pathways in the EC sector for you, feel free to contact us at 6337 8338.