KLCII organised an online "Space Activation Workshop" in June for teachers and educarers from Skool4Kidz preschool to learn how to harness outdoor spaces to create memorable learning adventures for their children.
Multiple sessions of the  half-day Continuing Professional Development (CPD) s were carried out from 4 to 25 June 2021 to accommodate small groups of educators from all the 24 Skool4Kidz centres.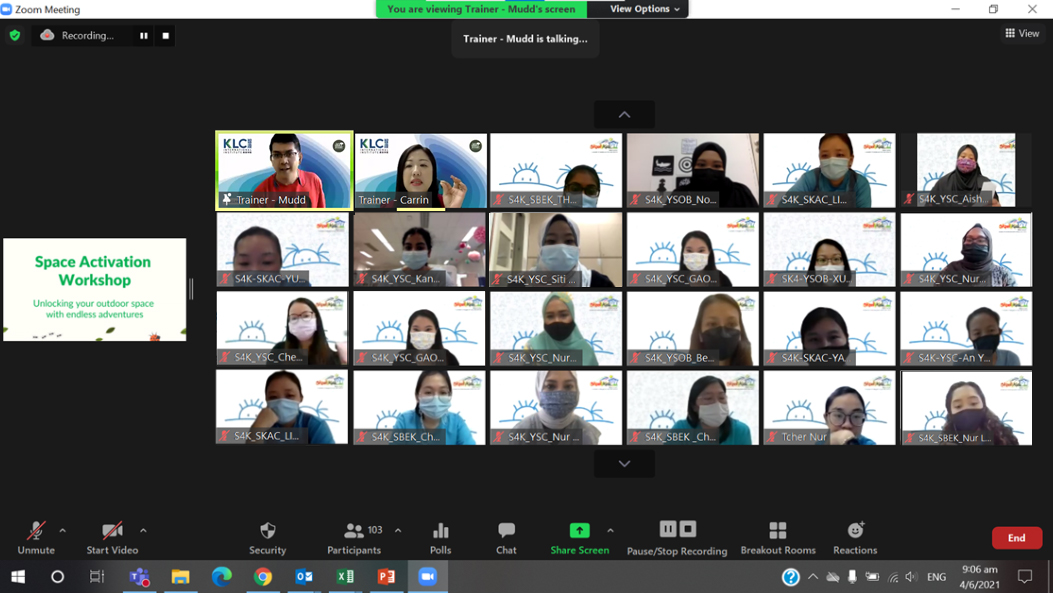 Founder & CEO (Chief Facilitator) of "Let's Learn Outside", which specialises in outdoor adventure learning. The Mandarin segment was facilitated by Ms Carrin Lim, a preschool centre leader and Adjunct Lecturer with the National Institute of Early Childhood Development (NIEC).
Each participant was given a workbook, which was used to guide them on the Learning Adventure Approach for outdoors. Takeaways include identifying outdoors spaces and resources and making an inventory list, crafting appropriate and exciting learning experiences for their children and recognising inherent outdoor risks and how to manage them.
The educators gained new perspectives in looking at the spaces and challenging their creativity to bring fun and memorable activities to life. They learned that all they need is a heightened awareness of the spaces before them and a child-like imagination to spark exciting learning adventures for their children.
"It was a very eye-opening experience. There are so many possibilities with the spaces that we see every day in our community and surroundings that can be used for exciting adventure learning for our children," said Ms Wang Yanan teacher from S4K Tampines Green Ridges.
"I did not expect the workshop to give us so many ideas for designing interesting, and even absorbing, outdoor learning activities for our children," said Ms Eh Yin Ying teacher from S4K Tampines Green Ridges.