KLC International Institute on 5 July 2021 organises a mass digital Professional Development Festival for all 600 Skool4Kidz teaching staff from 24 childcare centres.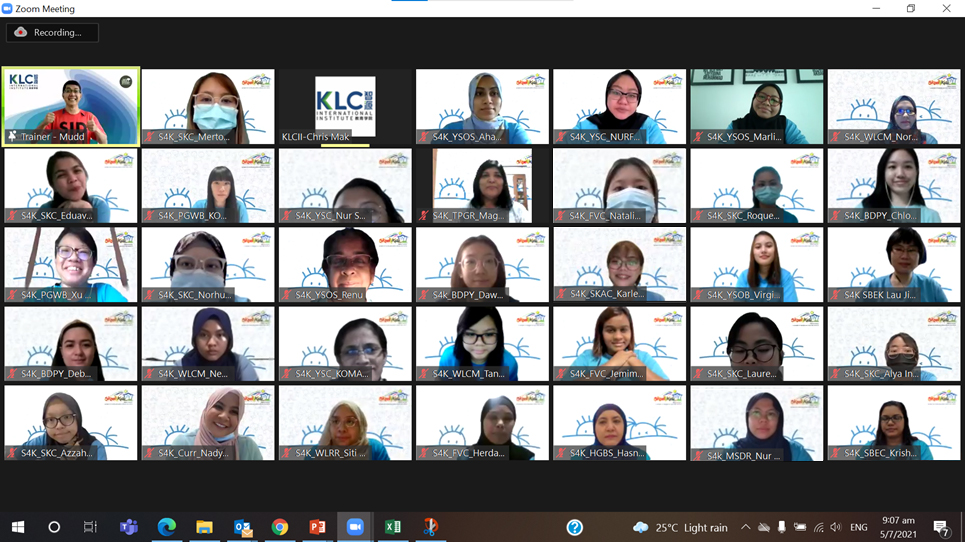 The teachers, principals and cluster leaders spent the day to "Celebrate Learning" as part of their on-going learning journey to support the culture of continuously acquiring new knowledge and skills.
The elearning programme had four workshops, catering to both English and Chinese teachers. The sessions were coordinated and facilitated by KLCII online using the Canvas Learning Management System.
One of the English workshops, "Harnessing the Power of 'Stories to bring outdoor learning to life" highlights the importance of outdoor learning for children.  It is designed to equip our educators with the skills to use stories as tools to transform children's daily outdoor learning experiences into imaginative out-of-this-world adventures. The second English session was on "Promoting Pre-Literacy Skills in Infants and Toddlers".
The Chinese medium sessions were on "The Impact of Nutrition on Infant and Toddler Development" and "Using Information Technology In Teaching In A Multi-Lingual Environment".
KLCII has been organising mass training programmes for the Crestar Education Group over the last few years. It organised a series of workshops for the group's.
Professional Development Week from  20 to 25 April 2020. The sessions were delivered online due to the temporary closure of all preschools and childcare centres in compliance with the enhanced measures against the coronavirus outbreak.  More than 700 staff from all the brands under in the Group, namely Kinderland, Skool4Kidz, Nurturestars, ELFA and The Grange Institution participated in the learning events.
Last year, due to the pandemic, KLCII also organised an online Team Bonding Day for Skool4Kidz.  Some 596 teachers, principals and cluster leaders from all the 20 Skool4Kidz childcare centres participated in half a day of bonding and learning in spite of the distance between them.