As a Workforce Singapore partner, KLCII has over the years been actively supporting the recruitment of talent for the early childhood sector. It has even extended its outreach to schools in Malaysia to attract graduating students there to become EC teachers in Singapore.
This year, KLCII has once again partnered with Anchor-operator Skool4Kidz to recruit new teachers at the Virtual Career Fair 2021 for Early Childhood Care and Education. Organised by the Early Childhood Education and Development Agency (ECDA), the event was held from 4 to 29 October.

KLCII highlighted its Career Conversion Programme (formerly known as Place-&-Train for Certificate level courses and Professional Conversion Programme for Diploma level courses) to attract mid-career candidates into the early childhood (EC) education profession.
For mid-career switchers who want to serve as preschool educators, the WSQ-sponsored conversion programme is one of the most viable options that provides attractive salary support and career progression pathways.
By collaborating with Skool4Kidz, a government appointed childcare anchor-operator which has 24 centres in the heartlands, KLCII has been able to showcase the opportunities available for their new career journey in EC education.  .
Webinar attendees at the Virtual Career Fair learned details  from  Ms Angie Kwek, KLCII's Corporate Sales Manager,  about the two Place-and-Train WSQ Higher Certificate in Infant Care (HCIC-FT) and WSQ Advanced Certificate in Early Years (ACEY-FT) for early years educators, as well as the WSQ Professional Diploma in Early Childhood Care and Education-Teaching, the required qualification for preschool educators.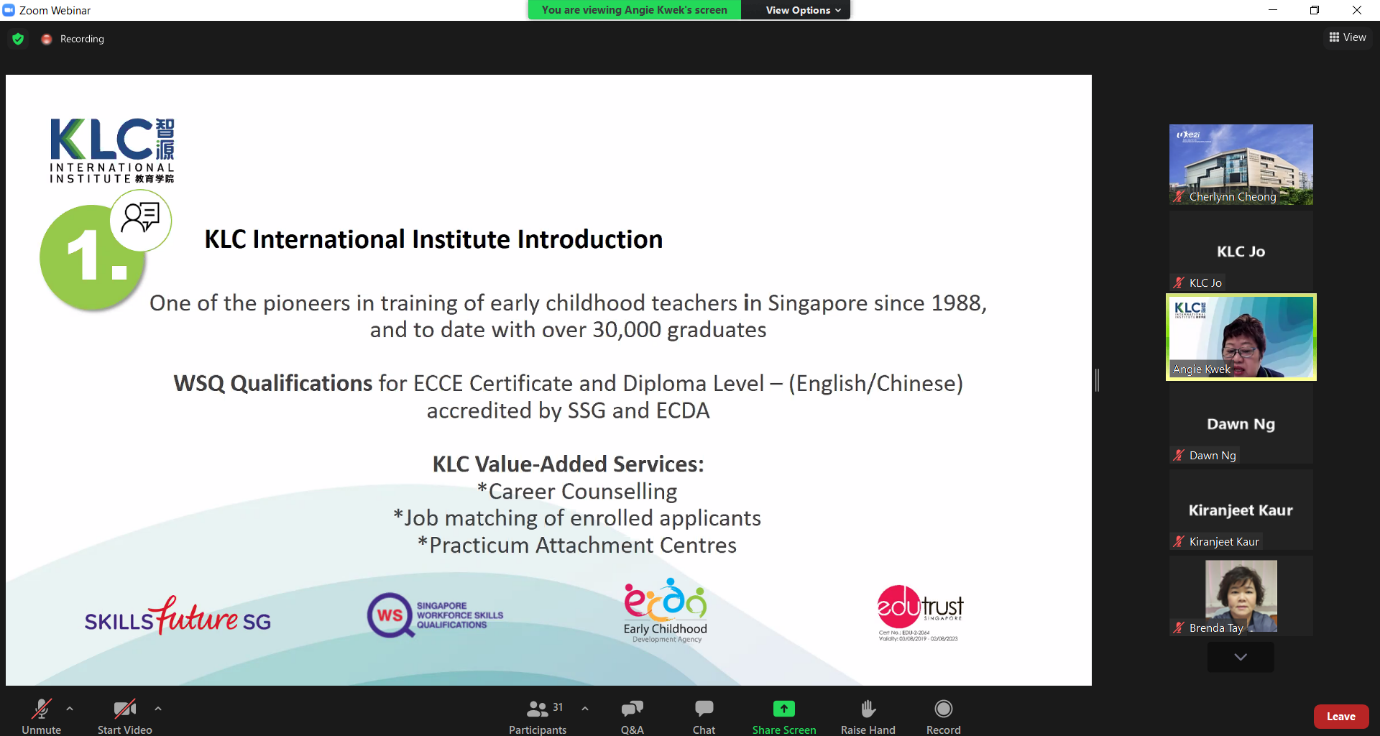 She gave the participants an overview of the preschool sector including the roles and responsibilities of early years and preschool educators, and the advancement opportunities available.  Also shared were KLCII's Value-Added Services, including Career Counselling, Job matching of enrolled applicants and Practicum Attachment Centres.
Ms Brenda Tay, Assistant Manager, Human Resource from Skool4kidz gave participants an insight into the work life of a preschool teacher, including challenges and memorable moments, as well as the benefits..
She also shared details of the Place-and-Train and conversion  arrangements, which require those interested to sign a contract with the preschool first, including the usual bond, before embarking a specific training course from KLCII.