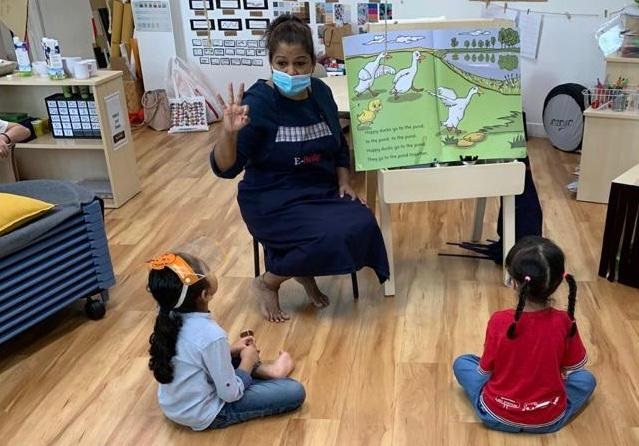 After 33 years in the healthcare sector which including 24 years as a dental therapist, Mrs Selvi Pitchai was aching to do something different. She made a milestone decision in 2016 to leave a well-paying job that led her to a new career in the childcare sector.
Between 2017 and 2018, Mrs Selvi completed a year-long Advanced Diploma in Counselling Psychology to supplement the degree she already had in Psychological Studies, both very apt for understanding children and helping them grow physically and mentally.
She officially joined E-Bridge Preschool and completed one-year WSQ Professional Diploma in Early Childhood Care and Education (Childcare) course with KLC International Institute to bring her up to speed with early childhood education.
She said the one-year Professional Conversion Programme (PCP), together with her background in psychology studies, has helped her to transit comfortably into her new role as a preschool educator and she has been enjoying it.
"I had wonderful lecturers who were there for me when I needed help whether it was academic or social. I received mindful assistance and advice from the staff at KLCII too," said Mrs Selvi.
She also expressed her joy working with children, which reminded her of the days when her two now grown-up children were very young and her 24-year experience as a dental therapist serving the schools.
"I am still working with children, and enjoying every minute of it. The difference is I did clinical work as a healthcare worker and had very little time to talk to them compared to working in the childcare centre where I am engaged with them every day," said Mrs Selvi.
"Going to work and seeing them excites me. There is no bound to joy while leading and participating with them in their learning through outdoor and cultural activities and helping to bring out the creativity and self-confidence in them," she added.
A dance enthusiast, Mrs Selvi has also been able to engage the children in singing and dancing activities and become a child again herself.
Asked about her aspiration in her new work journey, Mrs Selvi expressed her desire to subsequently contribute more by getting involved in lecturing and sharing her experience with new entrants to the early childhood sector.