Since the early Eighties, Singapore has been using Hanyu Pinyin or Chinese phonetics for the teaching of Mandarin in schools. An important tool for learning Chinese, Hanyu Pinyin helps children in the learning of oracy skills, as well as character recognition and reading. In order to express themselves fluently and grammatically in speech, children have to understand the use of this romanised system correctly.
In September, 30 childcare Chinese language teachers from six preschool centres based in Malaysia attended a six-hour workshop to master the skills of teaching Hanyu Pinyin to preschool children.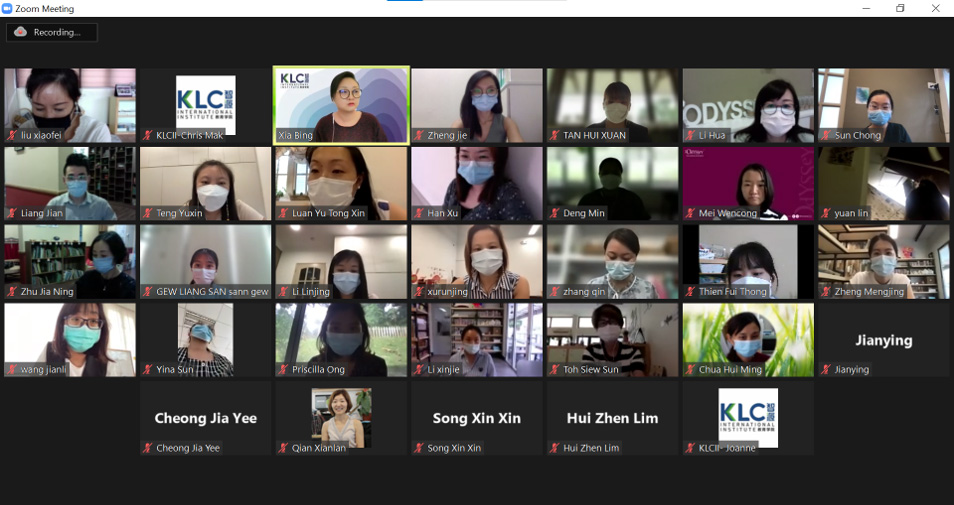 The workshop, held over two Zoom sessions on 28 and 29 September 2021, included learning the correct pronunciation of romanised words  and the differences between Chinese and English vowels and consonants, and the method of teaching the spelling of the romanised words, syllables, and tones, etc.
The meaning and function of the Chinese phonetic word segmentation and letter case, and Chinese character writing system, are based on the 2015 edition of Huanle Huoban Chinese text book published by the Ministry of Education, Singapore.
The workshop was conducted by Ms Xia Bing, a full time lecturer in KLC International Institute (KLCII) who has served in the Singapore preschool education sector for many years. She holds a BA degree in English Education from Shanghai Normal University and a  Master's degree in Teaching Chinese as an International Language from National Institute of Education, Nanyang Technological University.
Ms Xia Bing has conducted similar workshops previously and believes that in recent times more Chinese language teachers have been learning to improve their teaching of Hanyu Pinyin, especially for second language learners and children, as part of their professional development.