Switching careers can be daunting. But Ms Juanah was able to make the transition to an early childhood teacher more smoothly with the Career Trial Programme.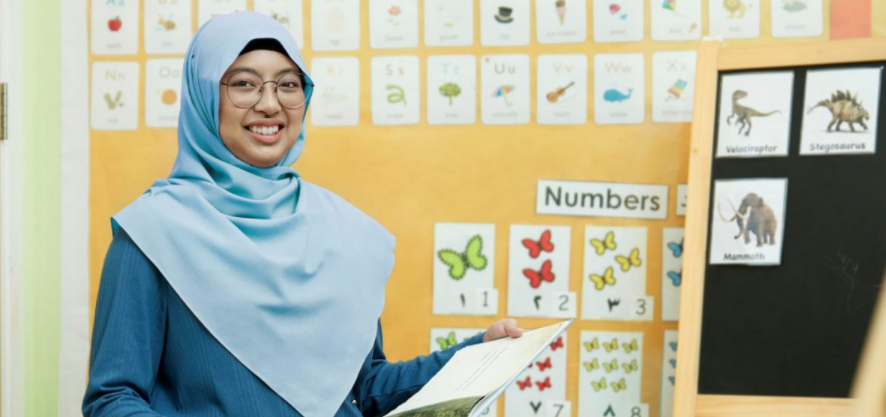 Ms Siti Juanah Binte Jumaat, 29, has always loved working with young children.
After graduating from the Institute of Technical Education's digital audio and video production course, she became an assistant teacher at a childcare centre.
Five years later, she decided that she wanted to work in a new environment, hence she applied to work at Islamic Kindergarten Ideal Kidz as a teacher.
It was at the interview when Ms Juanah realised that the role at Ideal Kidz was different from what she was used to at her previous workplace. For instance, her workplace distinguished between the roles of an assistant teacher and lead teacher, while Ideal Kidz did not do so. Thus, all Ideal Kidz's teachers are expected to handle duties such as classroom management, teaching and developing lesson plans. In particular, teaching and developing lesson plans required advanced experience that Ms Juanah did not have, and thus she was worried she was disadvantaged at getting the job.
"When I went for the Ideal Kidz interview, the director, Mr Abdul Hakim Bin Abdul Halim asked if I heard about Career Trial. He explained it and asked if I was keen to try," Ms Juanah says. The Career Trial programme allows jobseekers who are unsure about their job fit to go through a short-term job trial period before they are formally employed.
Initially, Ms Juanah was doubtful about her ability to cope with the role and its responsibilities.
"I have never been a teacher before, so I was unsure of how to do a lesson plan. Additionally, Ideal Kidz had a different curriculum from the childcare centre that I was in before," she explains.
Despite her reservations, Ms Juanah decided to take the plunge.
She explains: "I worked as an assistant teacher for five years, so I wanted to progress. I am still young, so I wanted to take up the challenge."
"If I didn't take the risk, I wouldn't know if I could handle it," she adds.
A supportive working environment
During her three-month long Career Trial in 2019, Ms Juanah performed all the duties of a full-time teacher at Ideal Kidz.
While she initially had difficulties developing lesson plans and managing students with special needs, Ms Juanah was able to learn the ropes with the help and encouragement from her colleagues.
"Every Friday, there is a staff meeting. Our principal always says if you need help you can ask for it. If you are unsure if the activities are suitable for students of a certain age, you can ask the meeting attendees so that they can brainstorm together," Ms Juanah shares.
It also helped that Ms Juanah took the initiative to approach her colleagues to learn.
Throughout the trial, Ms Juanah's dedication to her work impressed her principal immensely.
"She was very promising and professional," shared Ideal Kidz's principal Ms Noor Azreen Binte Abdul Aziz or Ms Ereen, as she prefers to be known.
Helping jobseekers to fulfil their career aspirations
To Ms Juanah, Career Trial has multiple advantages. But the most important one is career development.
"I had the opportunity to find out how a teacher works. It also allowed me to consider if I wanted to continue staying in Ideal Kidz after the three months," she says. She was able to do all these while receiving a training allowance.
Since completing the Career Trial, Ms Juanah has been employed at Ideal Kidz for over a year. She was also sent for a course to acquire the WSQ Advanced Certificate in Early Years, a professional certification for educators working with young children.
Ms Juanah is also enjoying her work at Ideal Kidz.
"Every day is a new challenge as the students react differently. I create a bond with them so that it is easier to teach them."
Besides helping jobseekers like Ms Juanah, Career Trial also benefits employers.
Ideal Kidz has participated in the Career Trial programme since 2018, and three of Ideal Kidz's staff, including Ms Juanah, were hired through the programme. All the participants joined the school as full-time teachers after completing the trial.
"Feedback from the participants is very good. They said that the nature of the programme is very encouraging as it allowed them to try something new as our (Islamic) education programme is very different from other schools and kindergartens," says Ms Ereen.
As seen in Ms Juanah's situation, Career Trial is a win-win situation for jobseekers and employers. For jobseekers, the Career Trial is a stepping stone for those who are keen to try a new job or get their foot in the door to a new industry. It also provides a safety net through a training allowance during the trial duration. Once the jobseeker and employer are sure that they can work well together, the former can secure the job and transition to be a formal employee at the company.